NOURISHING TRADITIONS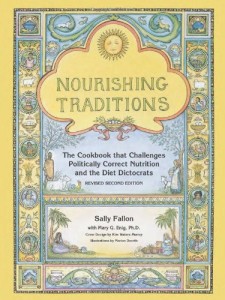 This well-researched, thought-provoking guide to traditional foods contains a startling message: Animal fats and cholesterol are not villains but vital factors in the diet, necessary for normal growth, proper function of the brain and nervous system, protection from disease and optimum energy levels. Sally Fallon dispels the myths of the current low-fat fad in this practical, entertaining guide to a can-do diet that is both nutritious and delicious.
Topics include the health benefits of traditional fats and oils (including butter and coconut oil); dangers of vegetarianism; problems with modern soy foods; health benefits of sauces and gravies; proper preparation of whole grain products; pros and cons of milk consumption; easy-to-prepare enzyme enriched condiments and beverages; and appropriate diets for babies and children.
THE FOURFOLD PATH TO HEALING
The Fourfold Path to Healing merges the wisdom of traditional societies, the most modern findings of western medicine and the esoteric teaching of the ancients. The fourfold approach includes: Nutrition using nutrient-dense traditional foods; therapeutics through a wide range of nontoxic remedies; Movement to heal and strengthen the emotions; and medication to develop your powers of objective thought.
GUT AND PSYCHOLOGY SYNDROME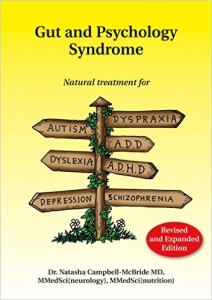 I want to let you know about a program I have been using in my practice as well as at home. For my patients who really want to improve their health and are ready to make some big changes I have been recommending the GAPS (Gut And Psychology Syndrome) program. This plan was originally geared toward helping people with depression, autism, anxiety, dyspraxia, schizophrenia, dyslexia, ADD and other mental issues. However, as more people started using the program it was found that it helped a whole lot of health issues. At this point many see it as an excellent program for healing up the intestines so you can absorb nutrients better and have better health no matter what your issues are.
EAT FAT, LOSE FAT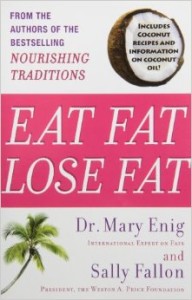 Based on more than two decades of research, Eat Fat, Lose Fat flouts conventional wisdom by revealing that so-called healthy vegetable oils (such as corn and soybean) are in large part responsible for our national obesity and health crisis, while the saturated fats traditionally considered "harmful" (from such foods as coconut, butter, and meat) are essential to weight loss and health.
Just in time for the FDA's new mandatory trans fats labeling, the three programs in this book, which features delicious recipes, show that eating healthy fats is the answer to losing weight and achieving good health for a lifetime.